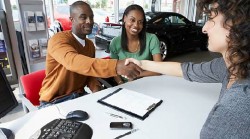 All of our vehicles offered for Rent 2 Own program are inspected prior to sale and INCLUDE a 2 year / 30,000 mile warranty. Our Rent 2 Own program is tailor made to set you up for success! Weekly, bi-weekly payment plans are available and we have plenty of inventory to choose from! We know that bad things sometimes happen to good people and that's why we work so hard for you!




We offer 0% financing with as little as $500 to start and payments as low as $75 per week. Plus, you can "trade up" or "trade down" over the course of your contract, as your situation changes!



You are 100% guaranteed to qualify, even if you have bad credit or no credit! Our credit check is minimal and is primarily based on term of employment and term in residence. You just need a few items to qualify.



100% of your weekly or bi-weekly lease payments goes towards the ultimate purchase of the vehicle.



You make the payments as agreed, usually for 24 – 36 months, and after the last payment is made, you may exercise your purchase option. The title and plates are then transferred into your name and the car is yours!



In the meantime, as our Rent 2 Own customer, you can look forward to many more benefits which are not offered by traditional car dealerships, like:


No obligation. You can return the vehicle
at anytime for any reason

.

Early Buy Out Option
We will discount your remaining balance by 10% for an early buy out in the event that you decide to pay off your vehicle early.
Trade/Upgrade
Do you see a different vehicle you like better on our lot? Just bring yours back at any time and start over in the vehicle of your choice.
Flexible Terms and Affordable Payments
You can choose to make payments on a Weekly, Bi-Weekly basis. If you'd like to lower your payments, we may be able to work with you to extend the 24 month term to a longer term, depending on the car you choose to drive and the amount you choose to pay up front.
15,000 Miles Per Year Allotment
(does not apply if you keep vehicle full term).
Curious? Try it! If, within the first
30 days from delivery of your vehicle, you are not satisfied with our program, we will refund you the money you paid towards your start up payment, minus a $500 administrative fee and any per diem over-mileage fees. Alternately, you may opt to change into to a different vehicle, without an exchange fee (up to $750 value), and all of the money you put towards your start up payment will be applied to your new vehicle. (Your account must be in good standing, offer extends 30 days from the date of first vehicle leased.)
Your responsibilities:



You must carry the primary insurance coverage on the vehicle in the amount of Illinois "minimum responsibility for leased vehicle" auto insurance with $250.00 MAXIMUM deductible. (We can direct you to a variety of insurance agents who can sign you up and get you going right away.)



As our customer, you are responsible to properly maintain and repair your Rent 2 Own vehicle while it's in your care. To make this easier for you, we'll provide you with discounted lube, oil, and filter changes as long as you're our customer with in our WARRANTY program!



If your car should need a repair, we will also help you by extending our parts discounts and affordable discounted labor rates to you.



Rest assured, a trained technician inspects every car when it comes in and we invest in the quality and safety of our fleet, making every effort to give you a safe, well-maintained, and reliable vehicle when you drive it off our lot. So, find out which coverage level is right for you and sign up right away to make sure that you and your family, your budget, and your vehicle are taken care of when you need it most. Unlike other dealerships, we will walk beside you as you work toward ownership.